Greens proposals for public transport in Drummoyne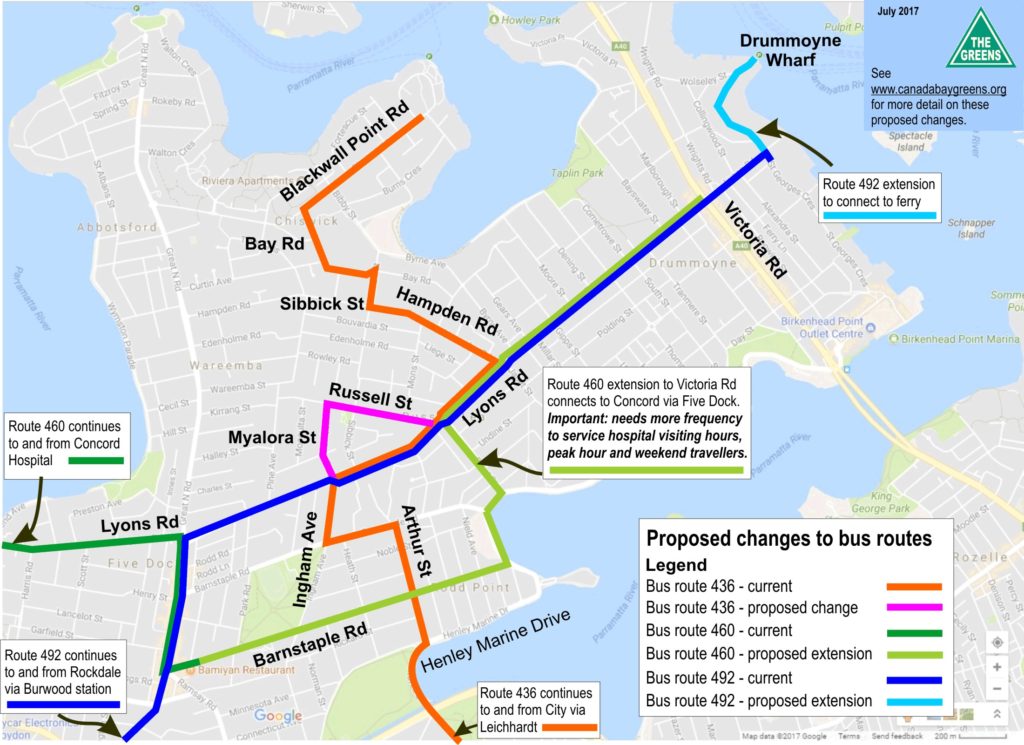 The Greens will campaign to improve the bus network within the Canada Bay Council area in three ways:
Improvements and extensions to existing services
Increased availability of information about service delays
No privatisation of public transportation
Improvements and Extensions to Existing Services
The Greens, in consultation with members of the community across Canada Bay, has identified key bus routes that require improvements. These improvements target accessibility within our community, and particularly so for older and less physically able residents. For many residents, their only accessible bus stop is serviced infrequently or does not operate on weekends. We will lobby for increased frequency of services and connectivity to communal services like hospitals and nursing homes.
436 Route from Chiswick to Central
Improving accessibility to Wareemba and the Russell Lea Nursing Home
The NSW State Government's standards for bus stop accessibility state that the distance between a residence and its nearest bus stop should be within 400m. This is largely achieved throughout Canada Bay, however in sections of Russell Lea and Wareemba it is not met. For instance Russell Lea Nursing Home is almost 500m from a bus stop, a distance too far for many elderly people to walk. It is also a problem for people working there or visiting the residents.
We will campaign to rectify this issue through a detour on the 436 route, adding no more than 5 minutes to the journey. Adjusting the route off Lyons Rd at Russell St would place the Nursing Home approximately 100m from the closest bus stop, a distance that much better accommodates nursing home residents' lower mobility. The majority of the infrastructure needed for this change is already in place, with traffic lights in place at the Lyons Rd-Myalora St-Ingham Ave intersection where the bus would now cross Lyons Rd.
To work with this change, the 436 would no longer on occasion terminate in Rodd Point, leaving residents stranded. All trips would complete the full route to Chiswick.
460 Route from Five Dock to Concord Hospital
Increased frequency and route extension to Victoria Rd to allow much-needed hospital access
The 460 is the only bus that provides east-west access to Concord Hospital, and services many areas that are otherwise inaccessible by public transport. However, many suburbs in the east of the Canada Bay Council area do not have direct access via public transport to our hospital as the route terminates at Five Dock shops. We will campaign to extend the 460 bus route up Lyons Rd and into the north of Drummoyne to provide much-needed hospital access for our residents.
The other necessary change is to the frequency of the service. Currently, the route only runs between 9:30am and 3:30pm, Monday to Friday with a total of only 6 buses a day in either direction. For a route that serves as many residents in Concord and Concord West's only local bus route and the only east-west route to a major hospital through a largely ageing population area, this is far below adequate. We will campaign for an increase in services to run between 8:30am and 8:30pm Monday to Friday, and 9:30 to 6:30 over weekends, to fall in line with hospital visiting hours and provide increased accessibility to the emergency ward for those without access to private transportation. The increase in number of trips on this route will be accounted for through the above-mentioned route extension, making the route more versatile and accessible for more residents.
492 Route from Drummoyne to Rockdale
Permanent extension to Drummoyne Wharf
There is currently a trial extension of the 492 route down to Drummoyne Wharf, a wharf which previously had no direct connection to any other public transport. While the wharf is only 550m from the closest bus stop, it sits at the bottom of a very steep hill. For the less physically able this small extension is crucial as it avoids a potentially exhausting walk, making the ferry system accessible to residents who are not able to make the walk up from the wharf to Victoria Rd. We will advocate for this trial being made a permanent addition to the route, as the benefit to even a small number of residents would greatly outweigh any disadvantages to extending the route an additional two minutes.
Increased availability of information about service delays
The most common complaint made to Transport NSW for any form of public transport is that availability of real-time information and delay updates on buses are not sufficient [1]. The Greens understand that for many people, real-time data on buses is a crucial part of getting around every day, and tracking info on your bus can mean the difference between making or missing your appointment, being on time or late to your job, or a stressful or stress-free public transport journey. For this reason, we will campaign to ensure that accurate real-time data information is guaranteed and passengers are informed when services are cancelled on all bus services in Sydney.
No privatisation of public transportation
If NSW Government succeeds in privatising our inner west buses, commuters will face higher fares, less frequent services, and minimal accountability. Almost all bus routes that pass through Canada Bay Council area begin at one of the four depots the government is trying to privatise, so Canada Bay residents will suffer at the hands of Gladys Berejiklian, Andrew Constance and the rest of the Liberal Party. The Greens strongly oppose the privatisation of any and all public transportation and will fight to prevent the privatisation of our buses.
[1] NSW Government 2016, Customer Satisfaction Index November 2016, Transport NSW.