By Councillor Charles Jago
Text of resident letter distributed 13 May 2023:
Dear resident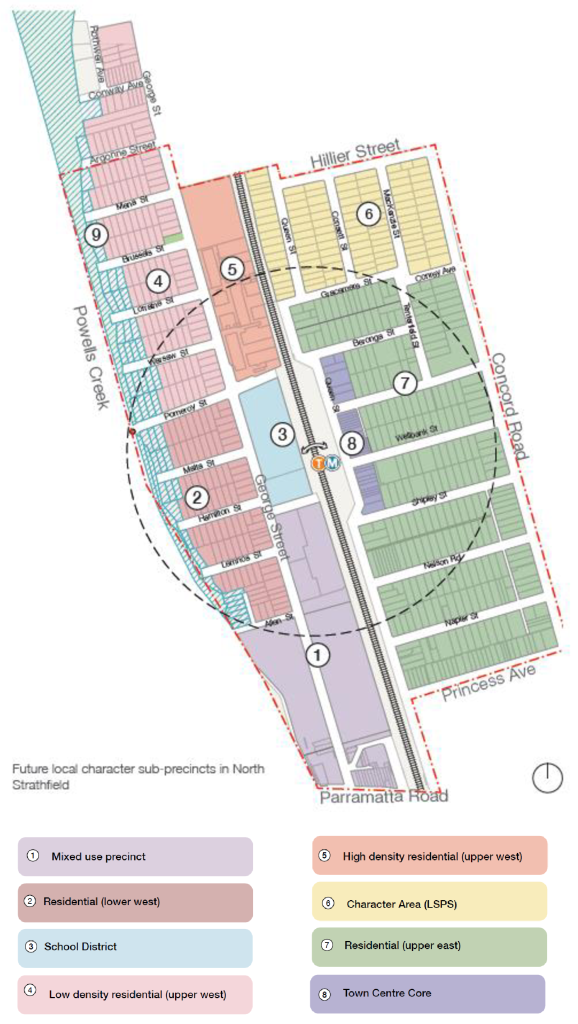 I'm Charles Jago, a councillor with Canada Bay Council. As you may be aware, all the properties in this area are currently zoned (R2) residential with a height of up to 8.5 m. I'm writing this letter because I'm concerned that Canada Bay Council is proposing rezoning in your area that I know some residents do not want. I am distributing this letter to properties from Pomeroy Street north to Rothwell Street, between George Street and Powells Creek.
Some of the residents in your area (precinct 4 shown in pink in the map on the right) support rezoning for substantially increased height and development, while others do not want any additional level of development at all. The map shows the zoning which Canada Bay Council is proposing, with a height of 3 to 4 storeys in your area, an increase from the current 2 storeys (8.5 metres) zoning. This replaces the options put forward by Council in their last consultation.
A council meeting next Tuesday evening (16th May) starting at 6pm will discuss this matter, with rezoning likely for later this year unless residents take action asking for something different. This map is shown on page 27 of the agenda for that council meeting.
In my view, some change to this area will be forced on the community, because the new Labor government wants more development around metro stations, whether Council implements rezoning or not. One option would be to include terrace housing, which creates greater density but still only 2-storey. However, I'm interested in your views.
Actions:
If you are concerned about this, please consider attending the council meeting. You can read the agenda and attachments and apply to speak at the meeting. See https://www.canadabay.nsw.gov.au/
council/about-council/council-meetings
Please send me an email with your concerns, and/or call me.
Please see more including my own comments on my website at canadabaygreens.org/NorthStrathfield
Regards
Charles
Councillor Charles Jago
charles@cejago.com, 0403 902 613
More info will be added soon based on resident feedback.