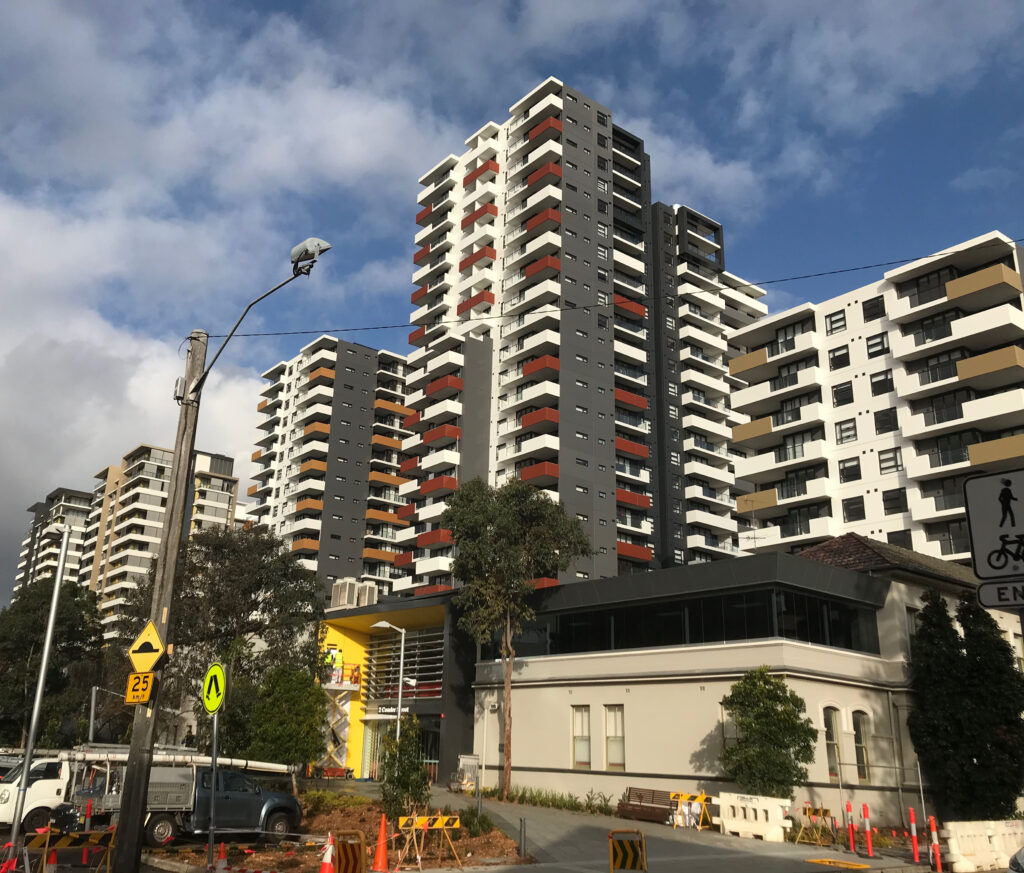 "If we want a liveable city that isn't overwhelmed by rows of apartment blocks linked by traffic-jammed private motorways, we must fix the rigged planning system. "Our planning system has little vision for the future, no voice from the community and prioritises profit. It's time for that to change."
Senator David Shoebridge
Development is occurring right across Canada Bay, with new duplexes, apartment blocks, boarding houses and more. The following map shows areas exposed to higher levels of development.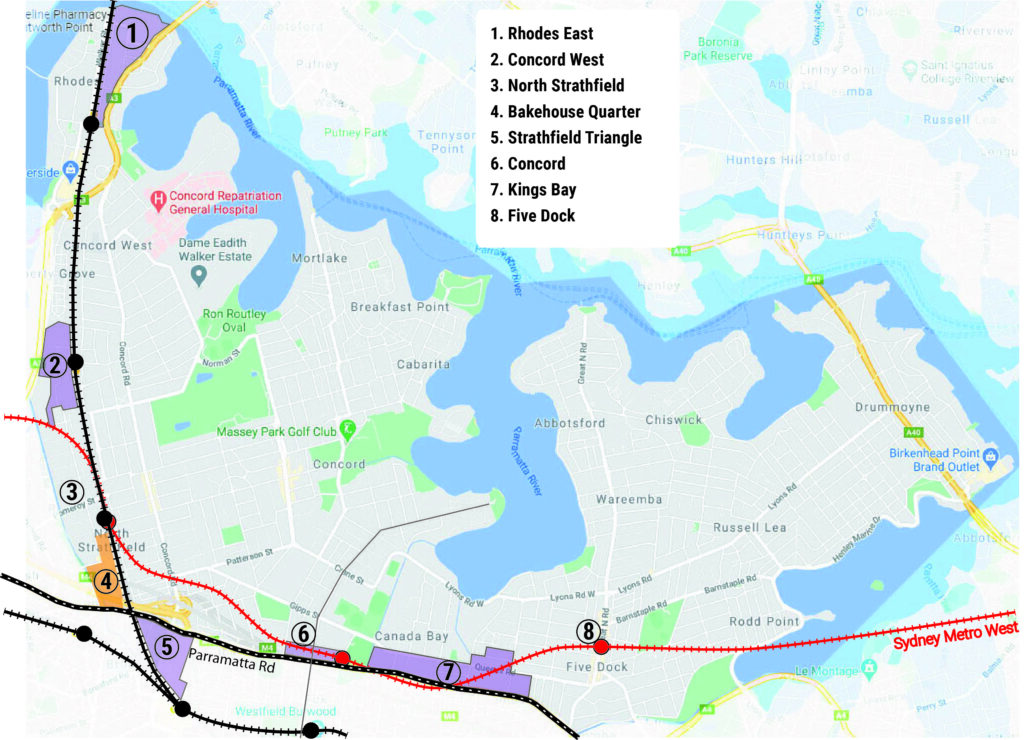 Areas facing more development
1. Rhodes East
In the area between the railway line and Concord Road north of Mary Street East in Rhodes, the NSW Government has announced plans for 3,600 dwellings in place of the existing ~140 dwellings, plus an additional 600 new dwellings west of the railway line – a 75% increase in the population. The government's transport proposals (including a ferry wharf) are inadequate for current residents' needs, let alone the future needs of Rhodes and Wentworth Point residents.
2. Concord West & 3. North Strathfield
Key issues raised by locals are recurrent flooding and restricted access via George Street, already causing traffic problems. The new Metro station at North Strathfield, connecting to the existing rail line, will be used to justify substantial additional development. Rezoning of the PRCUTS precinct to the west of Concord West station to allow town houses and terrace housing will increase low-rise density, while former industrial zones will see medium density housing of 4-6 storeys.
4. Bakehouse Quarter
The owners of the Bakehouse Quarter intend to redevelop a significant part of the area between Parramatta Road and Pomeroy Street, currently zoned for ~7 storeys.
5. Strathfield Triangle
The Strathfield triangle is that part of Canada Bay Council LGA south of Parramatta Road. The area between Leicester Ave and the railway line will include high-rise of at least 20 to 30 storeys. This area has less open space and fewer services than other parts of Canada Bay LGA.
6. Concord & 7. Kings Bay
Rezoning is now under way in two PRCUTS precincts along Parramatta Road:
Concord precinct from Broughton Street to Loftus Street, up to Burton Street.
the Kings Bay precinct from Walker Street nearly up to Courland Street, up to Queens Road and also sections on Kings Road, excluding Rosebank College and Lucas Gardens School.
Both will include areas with medium density and high-rise up to around 20 storeys (possibly much more), plus more local changes when rezoned.
8. Five Dock
While Five Dock has been kept to medium density in areas around Great North Road in the Five Dock CBD, pressure will mount for greater density due to the new Metro station at Fred Kelly Place. The Metro will also expand Five Dock's role as a transport hub for buses.
Parramatta Road Corridor Urban Transformation Strategy (PRCUTS)
The NSW Government's Parramatta Road Corridor Urban Transformation Strategy (issued in 2016) plans to enormously increase housing density along Parramatta Road from Parramatta to Sydney CBD. This plan fails because the area lacks key infrastructure to handle the current population, let alone the additional numbers the State Government wants, especially for transport and schools.
Infrastructure shortfall
Following are some of the main problems now being experienced, which will get worse with the new rezoning with PRCUTS.
Overcrowded trains
Based on past surveys, the Northern line has offered the most overcrowded trains in Sydney. Pre-COVID, passengers were frequently unable to board trains in Rhodes, Concord West and North Strathfield due to overcrowding. It is important to remember that the Rhodes station also services the suburb of Wentworth Point. The government has mentioned the possibility of various upgrades of the Rhodes station which will not actually increase the throughput of passengers on trains. It is unacceptable that, with trains already overcommitted, the government still plans a 75% increase to the population of Rhodes. For more details see the Canada Bay Greens submission on the plans for overdevelopment in Rhodes.
Traffic congestion (two broken promises)
"Prior to any rezoning commencing, a Precinct-wide traffic study and supporting modelling is required to be completed…"* This was promised in 2016 and still not delivered. Yet rezoning is under way right now in parts of Concord West, Concord and Kings Bay (shown in purple).
The NSW government has twice promised a Rapid Transit system using buses or light rail along Parramatta Road. Delivery was planned to commence in 2019-20, in line with the opening of Westconnex M4 East. Only Rapid Transit can abate Parramatta Road congestion. While the Metro will be welcome, it cannot do that.
* Parramatta Road Corridor Urban Transformation Implementation Plan 2016 – 2023, pages 27, 31 & 35
Over-crowded schools
The NSW government has fallen far short in delivering public school places, especially in high schools with long waiting lists. The Sydney Olympic Park High School due in three years (promised for 2020) will not be enough.
Concord Hospital upgrade – upgrades not keeping up
The hospital's stage 1 upgrades which have just finished in late 2021 were designed to deal with a population increase of 20% over decades. The 2015 stage 1 plan aimed for the hospital to cope with a projected population increase of 20% over 10–15 years based on 2011 census figures. In 2011 the Canada Bay population in was 75,762. Yet the population had already grown by 20% around the start of the project in 2017, and now – at completion – exceeds 30%! See more on the Concord Hospital page…
More detail to come – pressure on…
Access to open space
Tree targets in Canada Bay
Sporting facilities
Swimming pools
Libraries
More on the PRCUTS program
PRCUTS makes provision for affordable housing. While the level of 5% is below the level the Greens are calling for, it marks a significant step forward. (Of course, affordable housing as any proportion of new development will never be enough; the state and federal governments will also need to build a lot of new housing to meet these needs. See the Greens housing policies for NSW and Australia.)
PRCUTS and the latest rezoning proposal for Concord and Kings Bay precincts include provisions for some increase in the energy efficiency of housing. A good idea, but not actually enough to reduce carbon emissions from housing to meet the Government's net zero emissions by 2050 commitment (itself too low as well). See more in my motion on updating BASIX.
The May 2021 planning proposal includes provision for active transport, with relocation of cycling paths out of the way of cars – I credit Council planners for this – good on them! The problem being that this could have been rezoned as medium density, with the same benefits.
Overall though, these potential benefits don't overcome the problem that additional density makes no sense without the infrastructure like the promised Rapid Transit along Parramatta Road (NOT the same as the Metro), or enough high school places, and much more. And that's what the original PRCUTS documents said too – but the government has abandoned its promises in those documents.
Presentations from the Greens' March 2021 public meeting on overdevelopment
A public meeting on overdevelopment was held on 10th March 2021 at Concord Community Centre.
The speakers were:
Jamie Parker MP, Greens Spokesperson for Planning and Heritage
Jenny Leong MP, Greens Spokesperson for Housing and Homelessness (including Renters)
Councillor Charles Jago, City of Canada Bay Council
Ned Cutcher, Greens candidate for Burwood Council
Event MC: Pauline Tyrrell, former Deputy Mayor of Canada Bay Council
See the flyer on the meeting, with specific information on the areas that were discussed, and the most recent overdevelopment flyer. See the media release. See Charles Jago's slides (updated) and Ned Cutcher's slides.
Causes of overdevelopment
The NSW Government has tilted the planning rules in favour of developers and greater development, and has removed many of councils' powers:
The NSW government must approve all key council planning documents, and imposes changes on them.
The government sets compulsory targets for councils to approve new dwellings. It required Canada Bay Council to approve a target of 2,150 new dwellings between 2016 and 2021, which they did, and more targets still to be met. Yet councils are starved of the funds to build infrastructure for the growing population.
The system of private certifiers.
Councillors no longer approve developments. Decisions are now made by a "local" panel appointed from a list of government approved experts, who must follow government rules. Council appoints one community representative who can be outvoted.
The rules for "complying development" and "exempt development" reduce the time for approvals, but can also create inappropriate development.
The Greens want a complete overhaul of NSW planning laws to reflect the interests of residents and the environment, rather than following the dictates of developers.
Dealing with development around you?
See Charles Jago's comments on dealing with development next door.
More information
For more information, see our media releases from the 2019 state and federal elections: