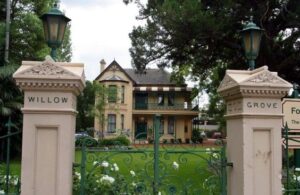 Canada Bay Greens strongly supports the efforts of Parramatta Greens and the North Parramatta Residents' Action Group to save Willow Grove, a beautiful heritage-listed Italianate villa in the heart of Parramatta from removal as part of the creation of a new Parramatta Powerhouse museum. The resident protest is being supported by a green ban on demolition of the site by the Construction, Forestry, Maritime, Mining and Energy Union.
On 12 February 2021, the Planning Minister, Rob Stokes announced that the NSW Government intended to dismantle and move the villa to a yet-to-be-determined location in order to enable the "New Parramatta Powerhouse Project" to proceed. The original heritage portion of St George's Terrace which was also under threat will be retained and refurbished including the brick facade.
The decision to proceed with relocating Willow Grove represents a reversal of a previous decision by the Premier, Gladys Berejiklian to preserve the site and to find an alternate location for the proposed $767 million Powerhouse Museum.
Willow Grove on Phillip Street Parramatta is a remarkable testament to the role of women in Australia's early and ongoing history. Reflecting the commercial success of Annie Gallagher, a very successful haberdasher and an early owner, the 1870s villa is typical of the growing prosperity of the Parramatta town. In 1919 Mrs E. Davidson, a midwife and nurse, bought the house and the house became a private maternity hospital, named "Estella". A succession of women owners retained the property as a nursing facility until 1953 when the house was purchased by the Department of the Interior. In 2015 the property was purchased by the City of Parramatta council.
In 1999, Willow Grove was heritage listed in the State Heritage Register confirming the significance of the site for its historical, archaeological, aesthetic, research, associative and representativeness values.
Leading the fight to save Willow Grove are Parramatta Councillor, Phil Bradley of the Parramatta Greens, North Parramatta Residents Action Group (NPRAG) Spokesperson Suzette Meadee and Shooters, Fishers and Farmers MP, Robert Borsak.
The union says it still opposes the relocation, which is anticipated to cost around $10 million, and the ban will stay in place.
National Trust of Australia's Parramatta branch president Cheryl Bates said demolishing Willow Grove would mean Parramatta lost another link to its important historical past.
"The National Trust does not understand how a building considered worthy of a heritage listing, using the accepted criteria for listing, can now simply be disregarded because a new use is considered more appropriate,'' she said.