Over 60 residents attended a forum to hear a panel of speakers discuss possible Council amalgamations, the Canada Bay Council's proposed merger with Burwood and Auburn Councils and to express their own concerns.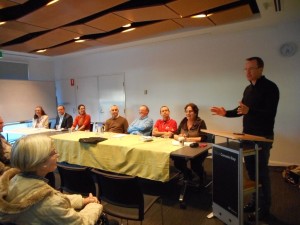 David Shoebridge, MLC addresses the forum
Attendees applauded Caroline Corrigan, Save Our Councils spokesperson who commented "the only winners are developers and the big political parties and we are the losers" as a result of the State Government's "Fit For The Future" Council amalgamation proposal.
Ms Corrigan was one of 7 speakers who participated in the community forum organised by Canada Bay Greens on Sunday 26 July 2015 at Concord Library.
Other speakers were Greens NSW spokesperson for local government David Shoebridge MLC, Canada Bay Councillors Pauline Tyrrell, Neil Kenzler and Michael Megna, Auburn Councillor Tony Oldfield and Strathfield Deputy Mayor Andrew Soulos.  Also sitting in the audience was Burwood Councillor Lesley Furneaux-Cook.
As an independent councillor on Mosman Council, Ms Corrigan has been part of Save Our Councils, a community-led, cross-council, non-politically aligned group working to "keep local councils local".   This group has been invited to present to the Parliament Inquiry into Local Government which commenced on Monday 27 July 2015 to represent resident views about proposed Council amalgamations.
Pauline Tyrrell and Michael Megna advocated Canada Bay stand alone, rejecting the Canada Bay Council submission for a possible merger of Canada Bay, Burwood and Auburn. Neil Kenzler said that his preference was for Canada Bay to stand alone, but defended the merger submission on financial grounds. The Canada Bay merger proposal was supported by the 4 Labor councillors, but opposed by Greens Councillor Pauline Tyrrell and 3 Liberal Councillors, making a tied vote which only passed with the casting vote of Labor Mayor, Angelo Tsirekas.
Auburn Councillor Tony Oldfield stated that, contrary to the claim of a unanimous decision, only six of ten Auburn councillors supported the merger proposal in a council meeting lasting for one minute.
Continuing with the theme of keeping local councils local, David Shoebridge emphasised that the vast majority of Councils had made submissions to IPART to stand alone rather than to merge.
He remarked that Canada Bay's merger submission represented a "capitulation and nothing else".    He gave recent examples where, in response to resident pressure, the West Australian government had been forced to withdraw planned council amalgamations, while unpopular amalgamations in Queensland actually had been reversed.  He also noted that that the average population of council areas in developed (OECD) nations was 27,000, with Canada Bay Council area already about three times that population size.
Audience members questioned Canada Bay Council's decision to recommend a merger with Burwood and Auburn at short notice. They also questioned the benefit of merging with Auburn which could necessitate being subsidised by Canada Bay residents.