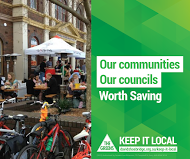 The NSW Government's forced amalgamations plans for local councils have been announced.
The forced amalgamations will cut the number of councils from 152 to 112. In Sydney, 43 councils will be reduced to 25, while 109 regional councils will become 87.
NSW Premier Mike Baird has said the target population size for the proposed merged Sydney councils was 150,000.
State-wide opposition to forced amalgamations has already seen Mike Baird's merger plans 'Fit for the Future' scaled back significantly.  Growing community opposition means that the plans are far from guaranteed.
Greens MP and Local Government Spokesperson David Shoebridge said:
"When a government dribbles out an unpopular policy a week before Christmas it's a pretty clear sign that it's feeling a lot of pain and just wants it to stop.
"For all the bluster and arrogance of the Baird government the proposed forced amalgamations on the table today are far less aggressive than his plans were earlier in the year.
"Six months ago the Baird government was planning to have a mass sacking of councils to appoint administrators and force Sydney into just six mega councils with dozens more council mergers in the bush.
"Growing community pressure has already forced a back down from Baird with no councils being sacked and a much reduced plan for forced mergers across the State.
"The Coalition now faces six months of even greater public pressure as each and every one of their proposed forced amalgamations grinds through separate public inquiries run by the Boundaries Commission.
"It's no surprise this is being announced just before Christmas, it's is a rubbish policy from an arrogant  government that knows forced amalgamations are deeply unpopular.
"What has been announced today is an incoherent plan for the future of local government without a scrap of evidence to support it.
"There is not a single report that supports a single one of these proposed mergers. What we see from Baird is a scrappy attempt at a political fix and councils and residents deserve far better.
"Baird is already finding that communities have far closer connections with their local councils and the services they provide than some smooth-talking bloke that they see on TV occasionally.
"The Greens remain committed to work with communities to stand up to the Coalition's bullying, oppose forced amalgamations and keep local councils genuinely local." Mr Shoebridge said.