A 2010 study by the Health Effects Institute (HEI) in the USA entitled "Traffic-Related Air Pollution: A Critical Review of the Literature on Emissions, Exposure, and Health Effects" found children living within 500 metres of a major road or freeway are at greater risk of developing asthma, while adults face an increased likelihood of lung and heart-related illnesses. The study revealed that traffic pollution was likely to exacerbate asthma in children, trigger new asthma cases across all ages, impair lung function in adults and could cause cardiovascular illness and death.
This study was the largest international study on vehicle air pollution and health and looked at 700 worldwide health-pollution studies, and found that there was a clear health risk for those living near arterial roads or highways.
Canada Bay local government area contains several major roads in or passing through it: M4, Parramatta Rd, Concord Rd, Patterson Ave, Gipps St, Lyons Rd, Great North Rd, Victoria Rd, Homebush Bay Dr. Almost all suburbs and therefore thousands of people in Canada Bay live within 500 metres of one of the above named roads. The accompanying image shows the areas most at risk; if you live within the area bounded by the thick brown then your family is at risk.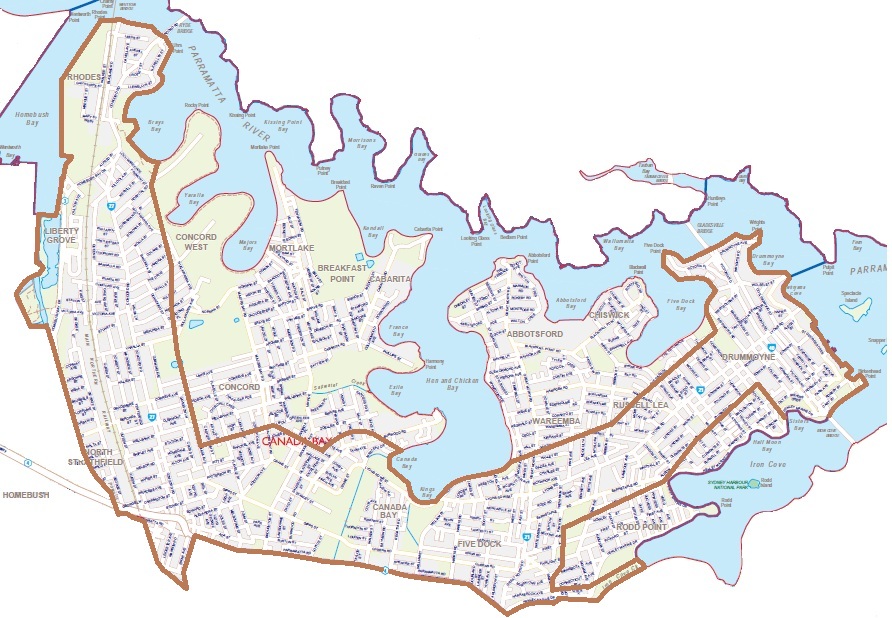 Reports like those from the HEI show that vehicle air pollution impacts on our health and provides further evidence to support actions to reduce our reliance on motor vehicles. Although air quality in NSW is sometimes considered good by world standards, at ground-level ozone and particle pollution has shown no significant improvement since the 1990s because of factors such as the rising population and more cars on the road.
Over the past two decades Sydney's population has increased by 21 per cent and the number of cars has increased by 4 per cent, with car trips up 58 per cent. In 2005, the Bureau of Infrastructure, Transport and Regional Economics found that the cost of vehicle air pollution on life and illness was $2.7 billion.
Facilitating the reduction of the number of cars on our roads MUST be a priority. The old political parties are not interested in reducing people's reliance on cars; their only promise is to build more roads to attract more vehicles. The Greens work toward ensuring that other transport modes are given more attention so that the people of Canada Bay have a real choice when it comes to their mobility. The Greens believe in a sustainable society and this includes sustainable transport that does not put people at risk. The choice is yours.