Cyclists in Canada Bay are well aware of several blackspots in local cycling infrastructure, for example, the corner of Lyons Rd West and Bayview Rd. The Greens' new Bike Blackspot iPhone App can send a message to the NSW Government telling them that this corner in Canada Bay is a hazardous spot for cyclists and it needs to be fixed.
The Bike Blackspot iPhone App (sydney.bikeblackspot.org) allows cyclists to build a map of where improvements are needed. This tool can be used to lobby the government and show them where funding needs to be targeted and because it is interactive; cyclists can also use it to share information about great places to cycle in Canada Bay.
With several active cyclists, the Canada Bay Greens are working hard to ensure that Canada Bay to becomes a safe and cycling friendly area for people of all ages.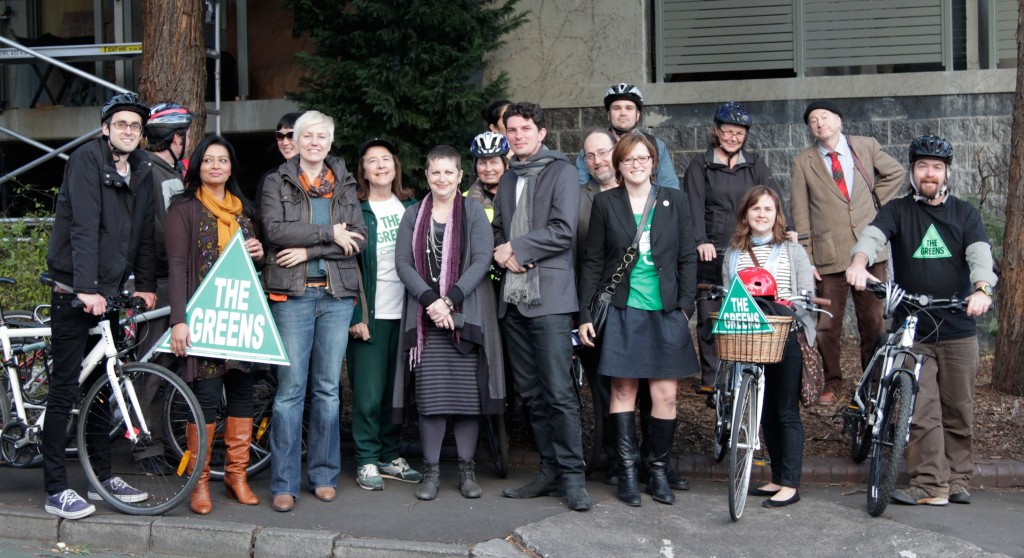 The app in the brainchild of Greens Senator Scott Ludlam and at the official NSW launch (photo above) Scott and NSW Greens MP Cate Faehrmann urged cyclists in Sydney to use the Greens' new Bike Blackspot iPhone App to log the good, the bad and the ugly of bicycle infrastructure and send a message to the Transport Minister, campaigners and their fellow cyclists.
"Cyclists can use their phones to record danger zones, obstacles and maintenance issues on the spot and upload a photo.  They can also nominate a spot that needs better infrastructure and praise good areas where cycling really works," said Ms Faehrmann.
"Users of the App will also be sending a direct message to Transport Minister Gladys Berejiklian that we need better support for cycling. "So far the NSW Government has failed to adopt the absolutely vital Inner Sydney Regional Bicycle Network project, which would cover around 14 local government areas, has a cost benefit of $3.88 for every dollar spent and could be built for a fraction of the cost of new motorways and roads.
The app has so far been launched in Melbourne, Perth, Adelaide and Geraldton with great response. Senator Ludlam has been calling for federal funding for cycling infrastructure for two years, but this has so far been rejected by government.
"Bike riders across Australia are fed up with being endangered, ignored and neglected by Governments and are now making the case for urgently needed funding," Senator Ludlam said.