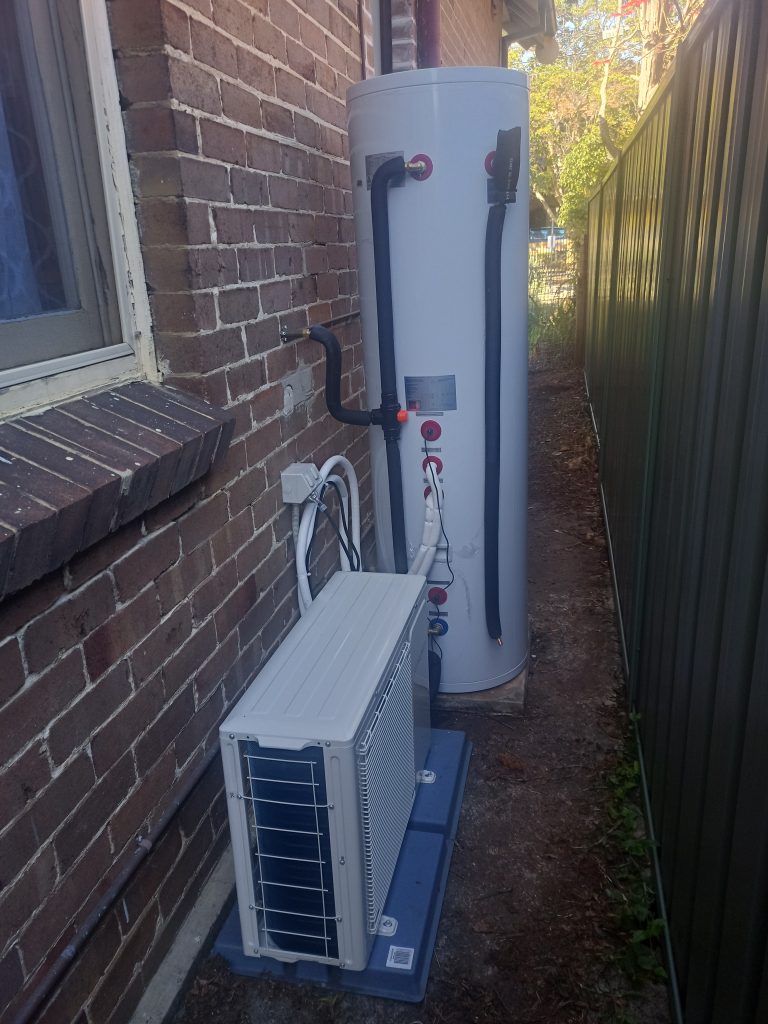 by Charles Jago, 3rd August 2023
In the last week, a new hot water system was installed in our house. Unlike the pre-existing hot water system (a 4.8 kW, 250 litre electric Rheem system which was showing signs of age), the new system uses a "heat pump" with reverse-cycle air-conditioning technology. Not only that, but we were able to install it at a very low price because these systems are subsidised by the NSW government.
From studying our electricity bill, I found that our hot water was using approximately one third of our electricity. I also knew that the best hot water systems use heat pump technology, which is far more efficient: hot water systems using heat pumps normally use about between one quarter to one third of the electricity used by conventional electric hot water systems.
Because of the greater efficiency, we wanted a heat pump hot water system to substantially reduce the electricity bills and the carbon emissions from the electricity used for hot water. Normally, these systems cost around $3,000 plus installation. But fortunately, we found that the NSW government had a program to subsidise the installation of hot water systems using heat pumps. The publicity was not very clear about what costs were covered by the program. Also, it seems that the program unfortunately doesn't apply to replacement of existing gas hot water systems.
Things got a lot clearer when I contacted one of the companies on the list of approved suppliers (Accredited Power 1300 066 345) and got a quote, with which we were very happy. As it happened, the work was done very quickly, for a total cost of $281. This is about one tenth of the full cost of installing a system like this, courtesy of the NSW government.
The installed system has a water tank with 215 litre capacity, with an average electrical power usage of 0.8 kW while operating. We expect to save 1.42 tonnes of carbon emissions and over $200 per year in electricity. The financial savings would be greater if we did not already have roof solar. Also note that, because of the solar, the system is set to charge at any time of day, governed by its thermostat.
The system installation only took a few hours and has been working perfectly since. A quick review of our daily power usage shows very low power usage for hot water, but it is early days. Certainly, I would recommend that if you are in market to upgrade your hot water service, you should inquire with this NSW government program while it lasts. This is a great program to reduce residential emissions, which needs to be publicised much more broadly.