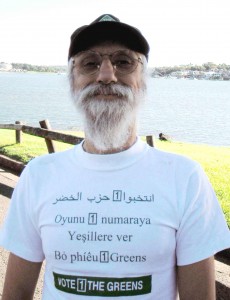 Sundar was born in Gibraltar to Indian parents. He is fluent in English and Spanish and understands Pakistani and Indian languages. He is married and has a son.
At a young age Sundar migrated to England where he was very active in the Labour Party. He graduated from University of London in Education in 1984. In his last employment in London he coordinated an advice service and managed a community centre in the London Borough of Brent.
In Australia, Sundar qualified as a teacher of English as a second language. He has worked in the community sector for many years. This has included co-ordination of youth activities and research in East Fairfield.  He has worked as a Tenant Advocate during the last 20 years.
Sundar has lived in Concord West for 27 years. He co-founded the local Greens group and has been involved in numerous community and environment committees. This has included the King Street Area Residents' Group, the Management Committee of Burwood Community Welfare Centre, the Sustainability Committee of Canada Bay Council, the Multicultural Committee of the Greens NSW and the Community Consultative Committee.